---
543217transparenCI
---


transparen543203
© GeheimRat, 2003




INTERNET BASIERTE SOZIALE TECHNIK
transparenCI ist die ausformulierung eines modells zur sicherung netzbasierter ethik und eignet sich zur ueberpruefung hierarchischer strukturen und bestehender systeme.
Im weiteren sollte sich hieraus eine diversifikation insbesondere im segment transparenz und black-box dekonstruktion ergeben. Das einbeziehen eines partizipations-aspektes in form von anteilen birgt die moeglichkeit einer veraenderten aufmerksamkeit sowie eines veraenderten risikos der parteien.




INTERNET RELATED SOCIAL TECHNIQUE
transparenCI is the construction of a new model to establish a net related ethic and establish one way of proofing hierachical structures and consisting systems.
It should lead to diversification, especially in the segment transparency and black-box deconstruction.
The involvement of a participation-act in the form of interests carrys the ability of another public attendance and risk for all parties.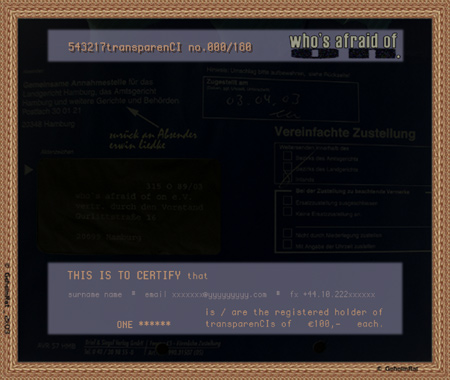 543217transparenCI
© GeheimRat, 2003
digital_source: 2075pix width * 1754pix height
e.g. digital colour print, 17,57cm width * 14.85cm height (6.92" * 5.85")



CONCEPT [2communicate → a service by artLABOR : for communication of contemporary art e.V.]

CERTIFICATE-HOLDER



---